Need to write your own bio for a new job?
Need something snappy and catchy for social media?
Looking for great samples of bios for inspiration?  
Are you struggling to come up with the right words, and just don't know where to start?
Get started today with our handy guide to writing your own professional bio!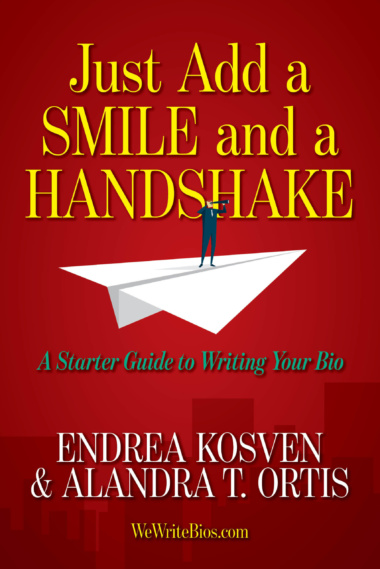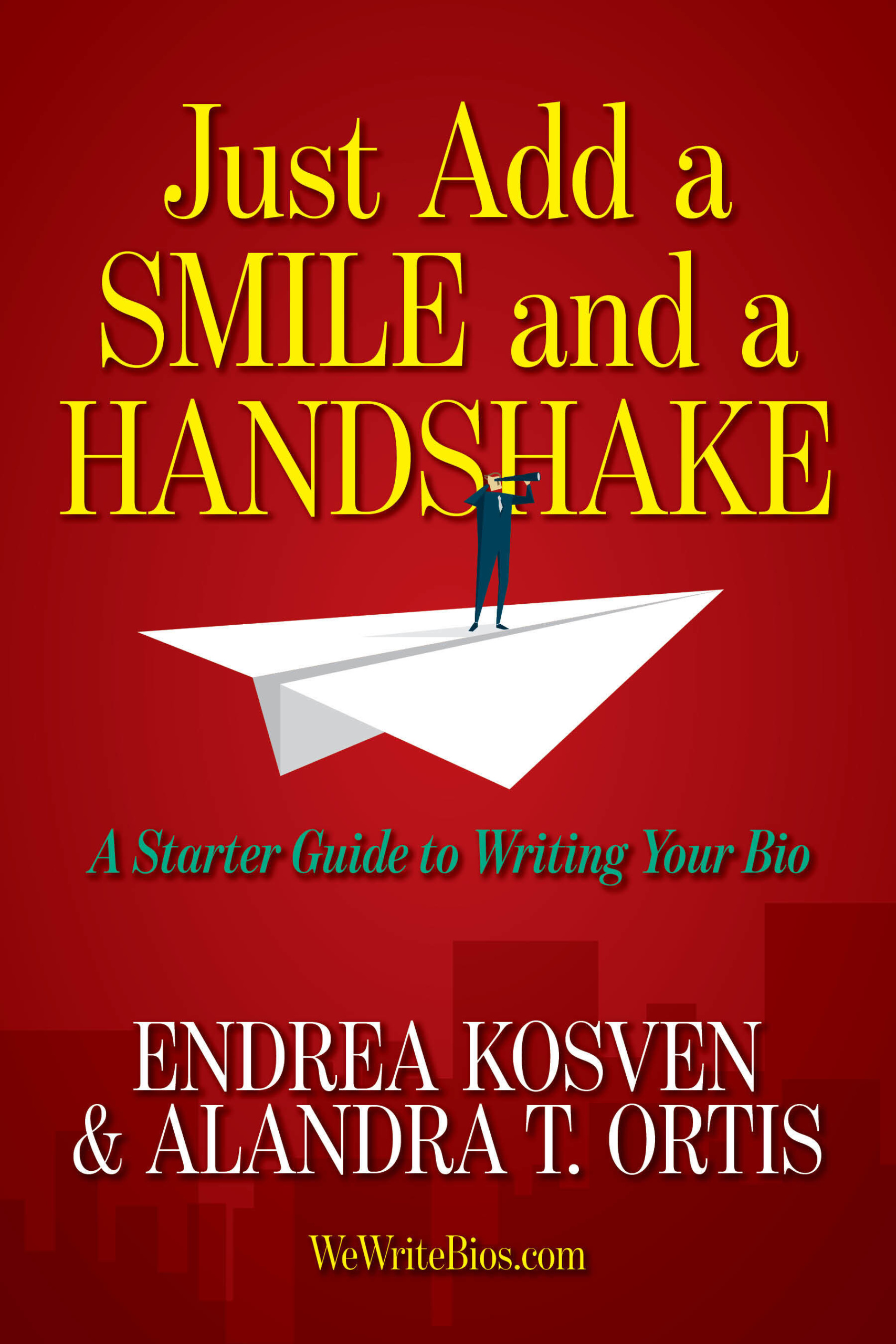 Whether you're writing a bio for social media or a company website, "Just Add a Smile and a Handshake" is the handy reference guide any individual needs to get started on their professional or social media bio. This fun and motivational ebook provides a breakdown of the different formats, including the long-form and short-form bio, complete with sample bios for different industries.
You will also learn that there is a strong correlation between social media, such as Facebook, Instagram, and Pinterest, and dating websites such as Match, eHarmony and Zoosk, just to name a few, when it comes to writing bios. 
This book will give you all the information you need to know about writing your bio. Your bio is the most important marketing tool there is, yet it is often overlooked. The bio will open doors because the reader now knows about you.  
Learn from professional bio writing experts what you need in your bio to make it stand out and help you shine in your field. In an internet-driven world, you need to exist digitally and your accomplishments need to be highlighted for the specific platform.
If you are starting a business, a new career, working for a large company with a large digital presence, or trying to find your soulmate online, then this book is for you! Learn more in our YouTube video:
A well-written bio is an important marketing tool, and is often the first impression one makes. So make it a lasting impression!
This engaging ebook answers commonly asked questions, such as:
Should a professional bio be written in first person or third person?

What is a social media bio?

How long does the professional bio have to be?

What is a good length for a short bio?

What achievements should be included in the professional bio?

Should hobbies be included in the professional bio?
This handy guide includes:
Several long and short bio samples, broken down in an easy-to-digest format.
Instructions on how each bio was written and includes specific tips for the reader.
Brainstorming exercises to get the creative juices flowing
Complete the form and click Buy Now.
After reading "Just Add a Smile and a Handshake" the reader should have a solid grasp of what it takes to put together a professional bio for business purposes.
Endrea Kosven
Endrea Kosven is the founder and CEO of WeWriteBios.com and EDK and Company, a marketing communications agency based in Los Angeles. With over 15 years as a PR and marketing professional, she helps her clients succeed in their professional branding efforts. Endrea got her start working in the newsrooms at KCAL-9 Los Angeles and MTV, then worked as a junior publicist with the Los Angeles Dodgers. She then became an account executive at leading public relations firm Edelman Public Relations Worldwide, where she worked on award-winning public relations campaigns for large consumer goods and entertainment companies such as Nissan North America, DreamWorks SKG, Microsoft Xbox, Baskin Robbins, Universal Studios Home Video, and ABSOLUT Vodka. She studied at the USC Annenberg School for Communication and Journalism in Los Angeles.

In her free time, Endrea loves to walk the little dogs at the local animal shelter. Endrea is happily married to her husband Dean and they reside in Los Angeles with their two dogs, Kona and Kokonut, and two cats, Vinnie and Chai. Endrea enjoys going to the beach, trying new healthy restaurants, and being outdoors with her family.


Alandra T. Ortis
Alandra T. Ortis is a professional copywriter and creative consultant who helps business clients with their branding and image programs. From bios to blogs, her creative copywriting work can be seen across various industries. She also provides Spanish-English translation services for business and entertainment clients. She received her degree from Bryan College in Los Angeles.

Alandra resides in Los Angeles and is the proud mother of two daughters and a grandson. She enjoys a healthy lifestyle and is also a passionate animal advocate. When she isn't busy crafting creative content, she loves spending time with her dog Peri, who she recently adopted after fostering, and her cat Shelly.